PART 1 GENERAL
1.1 SCOPE
A. Supply expanded metal panels utilizing the manufacturers' standard materials.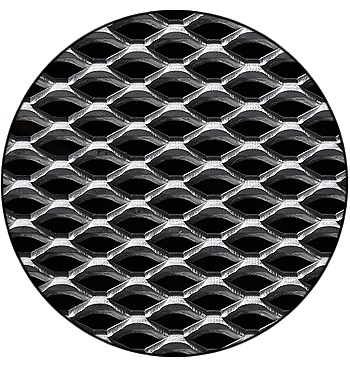 1.2 MATERIAL APPLICATIONS
Facade
Railing Infill
Enclosures (Security)
Privacy Screens
Ceiling Tiles
Column Covers
Sun Shades
1.3 BASE MATERIAL OPTIONS
A. Aluminum Grade 3003
B. Aluminum Grade 5005 Anodize Quality
C. Alternative material types, thicknesses, and open areas available.
Contact Spantek's representative for options.
PART 2 PRODUCTS
2.1 MANUFACTURER
A. Basis of Design: Spantek Expanded Metal Locations: Hopkins, MN and Lincolnton, NC 800-828-7785
2.2 MATERIALS
A. Mesh Description: VULCAN 3/16" .080 C AL
B. Mesh Description: VULCAN 3/16" .063 C AL
2.3 FINISH SELECTION
A. Anodize
B. Power – Coat Paint
C. PVDF Finish
D. Other custom coatings
Download Specifications VULCAN 3/16" Wide strand