People, Culture, and Environment
We are very proud of our Company and hope you will consider joining us. Spantek has been in business since 1963. Our goal at Spantek is to be the premier manufacturer and provider of expanded metal products and related services in North America. Spantek's parent company, Upper Midwest Industries, Inc.(UMI), headquartered in greater Minneapolis, is a family of manufacturing companies dedicated to designing, manufacturing, and delivering solutions for commercial and industrial customers worldwide.

Every person at Spantek plays an important role in serving our customers and achieving our goals. Our success depends upon the effort, attitude, and ability of every employee. The dedication of our team is what distinguishes us from our competitors.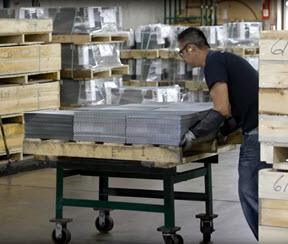 The following values guide our actions and will ensure your success at Spantek:
We strive for excellence in all that we do.
We serve our customers with high-quality products, on-time delivery, and personalized, professional "customer-driven" service.
We work safely and strive to identify and correct unsafe conditions and behavior.
We work efficiently and effectively and strive to identify and eliminate waste.
We take pride in our Company and maintain a clean, positive and productive work environment.
We welcome you, your talents, suggestions, dedication, and enthusiasm. We hope that you find that Spantek is a challenging and rewarding place to work. The role that you are taking on is important to the Company. We will do everything we can to help you succeed in your role and grow with the Company. We expect you to invest your time, energy and mind, to perform to the best of your ability, and to act in the spirit of our values.