AIA Continuing Education
As an active member of the Expanded Metal Manufacturer's Association (EMMA), in conjunction with the National Association of Architectural Metal Manufacturer's (NAAMM), Spantek is pleased to provide access to AIA accredited continuing education credits for Introduction to Expanded Metal applications.
Expanded Metal is an intermediate raw material that allows light and air to flow freely through it and has more rigidity than the sheet from which it was produced. It offers similar design characteristics to perforated metal with more flexibility in open area configuration, at a faction of the cost of perforated metals. Expanded Metal is formed in an expanded metal press and produced from any malleable metal sheet product. The plate, sheet or coil is simultaneously slit and stretched into diamond shaped openings. The expanding process produces zero scrap and because of the expanding process requires far less raw material to produce making it an ideal choice for sustainable building designs. Expanded Metal openings are of uniform size and regularity and provide boundless open area and design options.
Expanded Metal is an extremely versatile product with numerous architectural applications and even more to come. For example, expanded metal is used for building façades, sun shades, ceilings, decorative dividers, banister and stair rail infill panels, acoustical panels, HVAC ventilation grilles, partitions, gates and fencing, outdoor furniture and site amenities, signage backing, security walls and countless other applications. The use of expanded metal is only limited by a designer's imagination and creativity. We encourage you to participate in the following EMMA/NAAMM continuing education program:
AIA Continuing Education - EMMA05A Introduction to Expanded Metal and Applications
Technical Standards and Specifications
Standards for Expanded Metal (EMMA 55799)
EXPANDED METAL CONTINUING EDUCATION COURSE
DOWNLOAD PRESENTATIONS:
Architectural Designs & Applications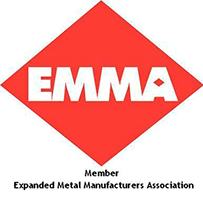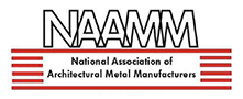 800
Roosevelt Rd., Bldg. C,
Suite 312
Glen Ellyn, IL 60137
630.942.6525
www.naamm.org