Types of Expanded Metal
Standard Expanded Metal
Standard expanded metal is a finished product as it comes from the press after having been die cut and expanded. The strands and bonds are set at a uniform angle to the plane of the sheet, giving it added strength and rigidity. Standard expanded metal is often referred to as "raised" or "un-flattened".
Flattened Expanded Metal
Flattened expanded metal is standard expanded metal which has been cold rolled and reduced leaving a flat, smooth surface. Flattened expanded metal is manufactured by processing regular expanded metal in a rolling mill, reducing the thickness of the original base metal and is lighter (approx. 5%) than standard expanded metal.
Crowned Expanded Metal
Crowned expanded metal is standard expanded metal which has been partially or semi-flattened to remove the raised surfaces, but not fully reduced to a flattened state. Crowned expanded metal provides a smoother surface than Standard expanded metal, but still provides a "profile" appearance.
Product Types and Typical Applications
Standard Meshes have a variety of diamond sizes and spacing options for countless industrial, mechanical, and functional applications
Decorative Meshes have smaller diamond sizes, or unique shaped openings
Architectural Meshes have unique shaped openings, appealing to architects and designers
Fine Mesh a precise, miniature version of conventional expanded metal that can be manufactured from a wide range of raw material
Expanded metal is a COST SAVING alternative to perforated metal and woven wire. Let SPANTEK show you how using expanded metal can save you money on your component designs.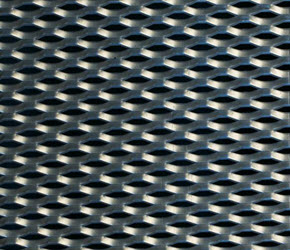 Standard Expanded Metal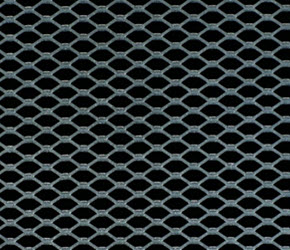 Flattened Expanded Metal